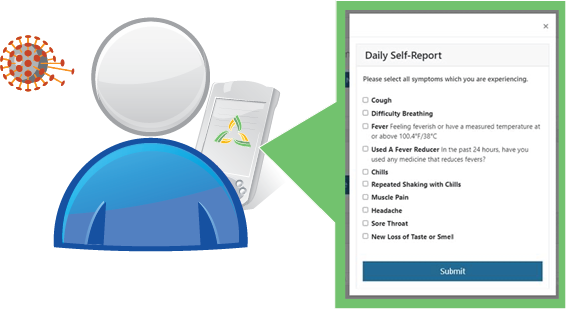 Frequently Asked Questions
Updated on July 20, 2020.
What is Sara Alert™?
Sara Alert™ is an online tool that the health department uses to monitor the health of people who are sick with COVID-19 or may have been exposed to it. Sara Alert™ allows the individual to report how they are feeling daily through the text, email or phone.
Why does the health department want me to use the Sara Alert™ daily self-report?
When you use the tool to report how you are feeling each day, your local health department can better help you. The tool is designed to make reporting to your health department easy.  If you are exposed to the virus and later develop symptoms, the health department can refer you to the appropriate care.
How does Sara Alert™ help me and the people in my community?
Because Sara Alert™ can track lots of people at one time, your local health department can quickly identify and help people with the virus in your community who need urgent care. It also helps them find ways to contain the virus from spreading further in your community.
What type of information will my local public health department ask for when they enter me in Sara Alert™?
When the public health department initially enrolls you in Sara Alert™, they will ask for general information about you and how best to reach you.  Sara Alert™ then sends daily messages that ask about COVID-19 symptoms.  Sara Alert™ messages will never ask for your social security number, account numbers, passwords, or security question responses. 
What happens to my data once I am no longer being monitored?
Your information will be purged from the Sara Alert™ database following a specified amount of time after the monitoring period has ended.
How does Sara Alert™ keep my private information safe?
The tool was developed with you in mind so that your private information is safe and secure.  Sara Alert™ follows all laws and policies that protect your privacy and personal information.